What is Endpoint Security?
The innermost protective circle of our Layered Security concept protects the heart of every corporate network: the clients on which employees work with sensitive data on a daily basis, where they enter access data and open attachments from e-mails. Endpoint Security includes all the technologies that protect these clients directly from threats and exploiting vulnerabilities. This includes proactive protection against malware, including an effective client firewall and efficient patch management to prevent vulnerabilities in installed programs from becoming an attacker's gateway.
Reliable detection of known malware
Most attacks on corporate networks are carried out with known malware that attempts to penetrate the outer defence layers every second. Classical detection of malware using signatures is closely linked to behavior-based detection and plays a key role in the Layered Security concept for early detection of threats. This is not only why it is indispensable in modern security solutions. In addition to the virus scanner on the clients, the protection technologies also rely on signatures that work at the network borders in the Layered Security concept - for example, the e-mail filter or the URL blocker. This allows them to detect malicious files on the network before they reach the clients.
G DATA regularly delivers a new signature list via update, so that the computers in the network are protected against known malware in a timely manner. The signature of an unknown malware that has been stopped by behavior-based detection is immediately communicated to all protection technologies so that they can next time stop the malware directly at the outer layers.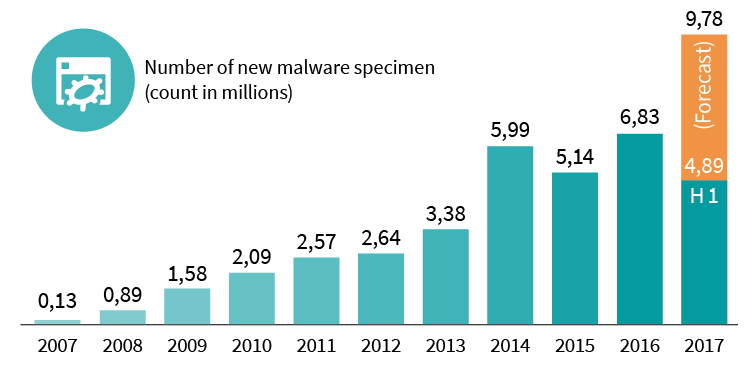 In the first quarter of 2017 alone, the G DATA experts identified 1,852,945 new types of malware.
(Source: G DATA)
What are signatures?
All files or programs have a unique "fingerprint": the so-called signature. If a file or program is classified as malicious, it will be listed on a black list. During a virus scan, the signatures of files are compared with this list - this happens very quickly and is done regularly in the background. If the anti-virus software finds a file signature on the blacklist, it will be detected as malicious and quarantined.
Next Generation Proactive Technologies
If malware was intercepted by its signature on the outer defense rings, it could not cause any damage yet. Only when the code contained in the code is actually executed and gets computing time in the processor can it unfold its potential. Once a malware has overcome all levels and is activated on the client, it encounters behavior-based detection. This is the last line of defense. Only when it's taken is the attacker at the target.
G DATA business solutions have numerous next-generation technologies such as
heuristic algorithms
Exploit Protection
BankGuard
Keylogger Protection
Behavior Blocking
They are able to identify and stop unknown malware by its behavior before damage occurs. The software is then added to the signature list of malicious programs so that the outer defense rings can intervene at an early stage during the next attack.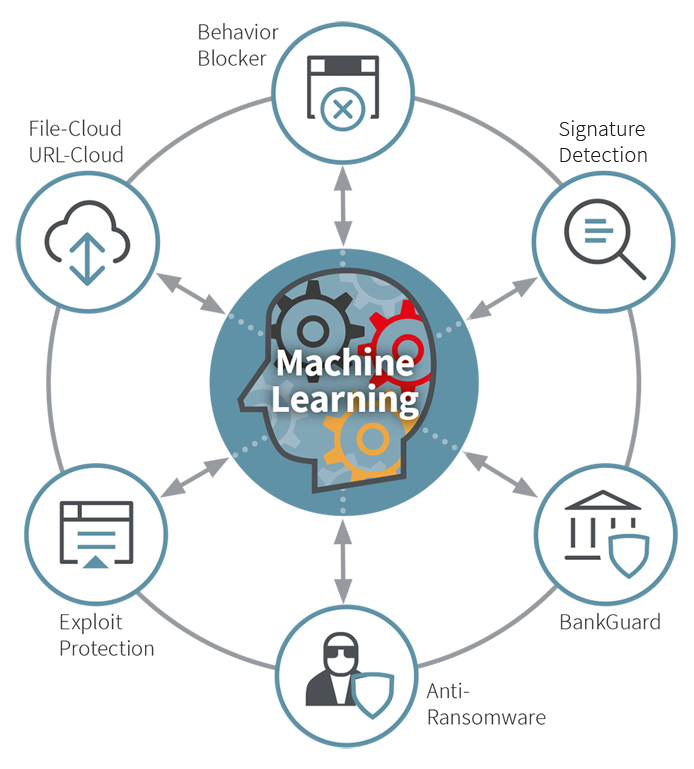 Ransomware: A new challenge for companies
Extortion Trojans are currently keeping the corporate world particularly busy. Once a computer is connected to it, the so-called Ransomware encrypts the local files - usually also those on other clients and servers in the network. The attackers then demand a ransom for decrypting the data. Prominent variants such as Petya, WannaCry or Locky could thus cause damage amounting to millions.
Our new Anti-Ransomware module protects against these perfidious attacks: It detects when a program wants to encrypt many files in a short time and stops the process early.
Firewall
In addition to malware detection methods, our firewall checks client communication with the corporate network and the Internet. This means that no malware can reach the computers in your network via these connections, no one can gain access to your data, and no malware can establish a connection to the Internet.
In times of "Bring Your Own Device" (BYOD) and consumerization, the client firewall is more important than ever: When employees use your company's devices in another network - for example, an unsecured WLAN in a café - our firewall ensures outside the company that attackers do not gain unnoticed access to the device.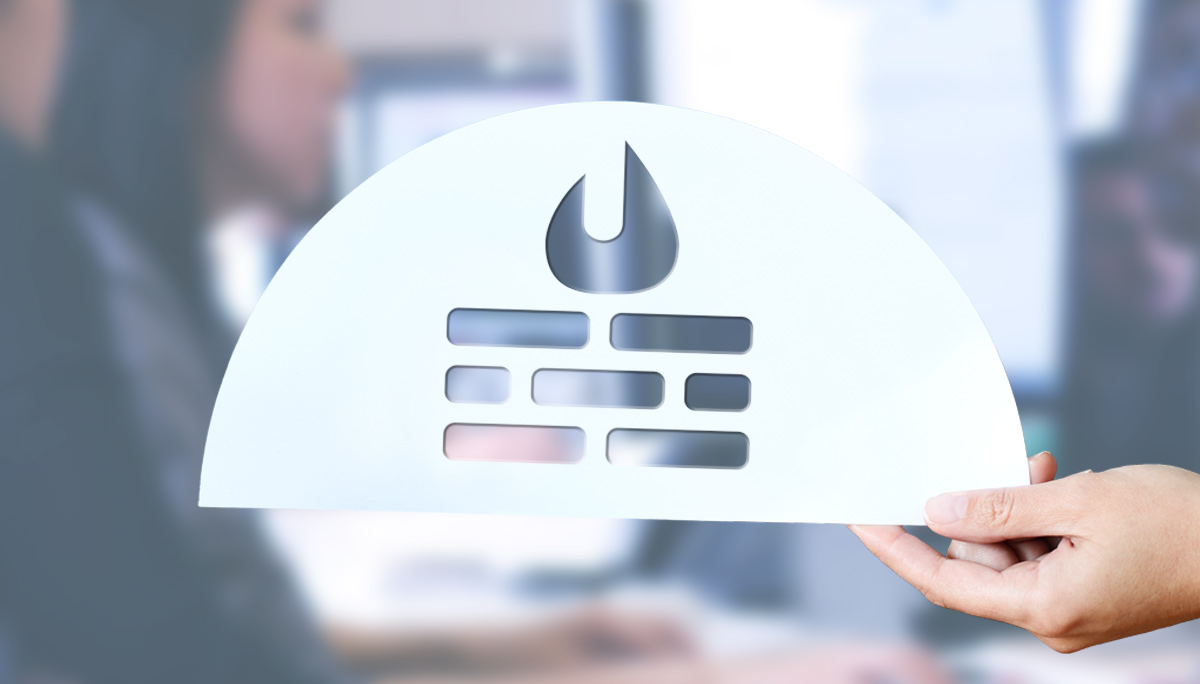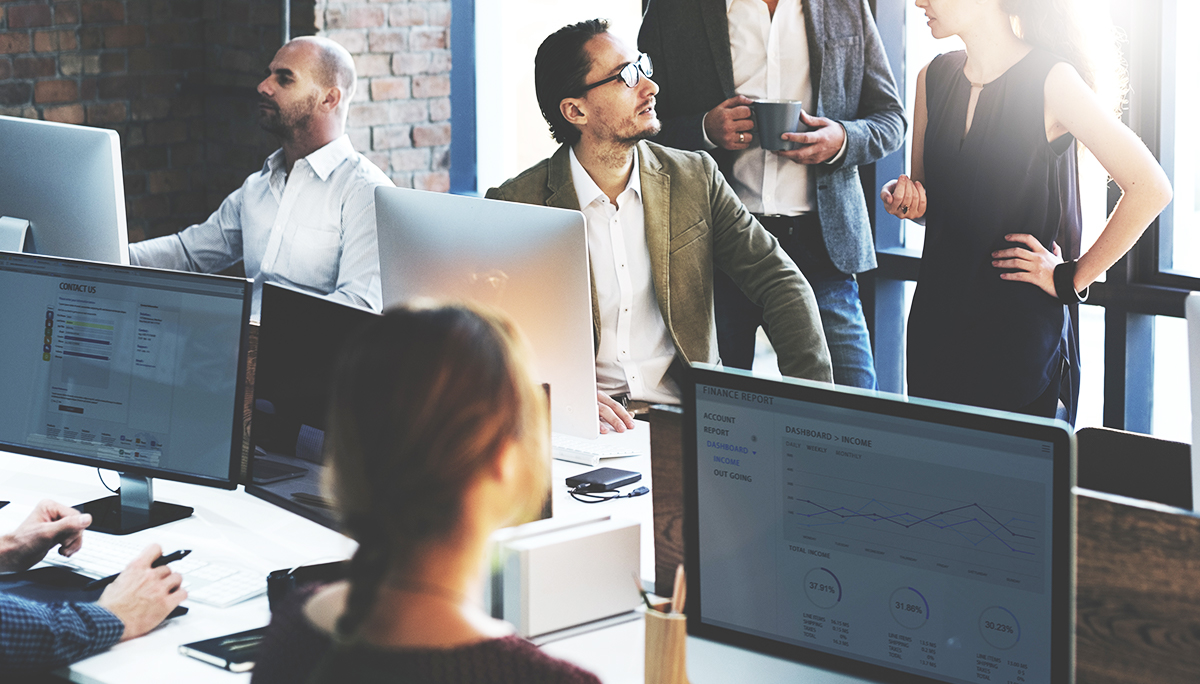 Patches
For many vulnerabilities in software, there are already updates that fill these gaps. The problem: These patches often don't reach the clients fast enough. After the infection with the extortion Trojan horse "WannaCry", the disaster for hundreds of thousands of IT managers - see info box. But how do you keep track of the software and patches used in your company? The solution: G DATA's centralized Patch Management. Reduce the size of your clients' attack area and prevent many cyber attacks that exploit known vulnerabilities.
G DATA Patch Management
Pre-tested updates from the world's largest patch directory
Inventory of installed software on the clients
Implementation in test environments
Rollback orders as required
Reports
The "WannaCry" case
The blackmailer Trojan "WannaCry" spread all over the world on May 12, 2017 and attacked corporate networks. In Germany, operations in numerous hospitals were at a standstill, and the Deutsche Bahn scoreboards only showed the message of blackmailers instead of the current departure times. Production and workflows in global companies such as the French car manufacturer Renault were massively affected by the attack.
The Trojan horse could spread so rapidly due to a known vulnerability in the Windows operating system alone. This gap was already closed two months before the outbreak. The infection could have been avoided if the patch released by Microsoft had been installed on the affected systems in time.
infected systems
(Source: heise.de)
countries concerned
(Source: heise.de)

Antivirus
Business



Client Security Business




Endpoint Protection Business




Managed Endpoint Security
Endpoint Security

Virus monitor with CloseGap hybrid technology

Behaviour monitoring of files

Protection against security vulnerabilities in installed software

Online banking and browser protection

Protection against malware and phishing when surfing

Protection against manipulated USB devices

Light Agent for virtual machines

= optional modules
Managed Endpoint Security
Outsource your IT security and benefit from all the advantages of our Endpoint Protection Business: Your G DATA partner will take care of all the tasks for you - from rolling out the software on your endpoints to configuring the firewall and adopting your Active Directory policies.
Deployment and maintenance by G DATA experts
Fast response to problems
Compliance with your company guidelines
Easy integration into your infrastructure
Remote maintenance without downtime
Focus on your core business, cost-efficiently and without disrupting your day-to-day business due to administrative downtime.
IT security from the cloud
Your G DATA partner can now also set up virtualized management servers for you via the cloud platform Microsoft Azure.